Friday Night with the Pope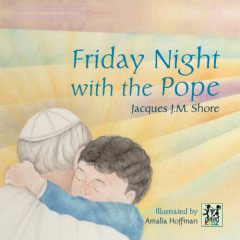 by Jacques J. M. Shore, illustrated by Amalia Hoffman
40 pages,
ISBN: 9652293709

---
Post Your Opinion
Kids' Lit
by Olga Stein
Looking back on childhood, one can sometimes be amazed by those who were there to share one's modest but also joyful beginnings. In Jacques Shore's book, it just so happens that Lena had grown up in Poland at the same time as a boy called Karol Wojtyla. Lena remembers hearing of this boy who had loved sports, as well as acting and poetry, and of his kindness and empathy, qualities that were apparent in him even at a young age. "His [sports] team would be made up of Catholic and Jewish players," Lena recalls others telling her. "He was friendly with many young Jewish classmates at a time when they were being very badly treated by others." It made him "sad because he believed that to hate anyone was wrong."
No doubt many friendships, between folks in every part of the world, are cemented by the shared memories of childhood and youth. But there is something particularly special about Lena's friendship with the man who was known as Karol because Karol, after decades of devoting himself to his calling, had been elected to the highest office in the Roman Catholic Church. Karol became Pope John Paul II. Since Lena is Jewish, one would think that her and the Pope's life experiences, their personal trials and different faiths, would have pushed them far apart, but the opposite is true. Lena is attached to the man whose compassionate spirit she had heard about as a young girl, and in turn, the Pope, cherishes his friendship with Lena, extending his affection to her family.
The friendship between Lena and the John Paul II forms only the background to this tale of young Jacob accompanying his mother to the Pope's private residence for a Shabbat dinner, but like many of the other between-the-lines aspects of this book, it is an element that stirs the imagination. Lena is the real name of Jaques Shore's mother. She also comes from Poland, and she was, in fact, a dear friend of the Pope. They would often reminisce together about their childhoods in Poland, and Lena's work, including the book she was working on, Building Bridges: Pope John Paul II and the Horizon of Life, had great personal meaning for John Paul II. Shore's Friday Night with the Pope captures something of their actual friendship, although one senses that there's a great deal more to the abbreviated story we're given in the book. Similarly, the Pope's warm demeanour, so well rendered by Amalia Hoffman's illustrations, and his words to Jacob over the course of the dinner, bespeak an awareness of the world and of humankind that is far more profound than even the affecting text and pictures can convey.

The Pope placed his hands over Jacob's head. "Jacob, the spirit of Heaven is here ű here on earth; we just need to find it and plant this spirit in our everyday life. . . . On this Shabbat, we are sharing the spirit of love and friendship, things we all wish for. Heaven will touch the earth when we love our neighbors as ourselves."

This delightful book celebrates an openness to the world, and the ability to forge common ground with others¨whether through childhood memories, or shared convictions and ideals found later in life. All of us have heard words of deep and abiding admiration spoken often and by many about Pope John Paul II. It is wonderful to see a children's book that commemorates his great spirit, and in a way that is meaningful to Jewish and Christian readers. One copy of this book will promptly go to my daughter's public school, where I hope it'll be enjoyed by teachers and students alike.